Coconut flour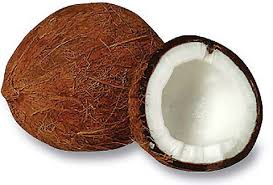 Coconut flour is a brilliant gluten free alternative that adds so much flavor and enriches your life so much more. It can turn your everyday dishes into delicacies just like that
What can I say about it? I love it.
Side Note:

Not to be overlooked is Coconut Oil! Although I won't be writing about it on my site, I have to say that I love it as well. This gluten free oil makes like just a little bit more decedent to the taste buds, as well as your body, and allows you to get the full benefits it has to offer. Want to find out more about this wonderful product, Click on the link below:
Click here to visit Hybrid Rasta Mama.
Coconut Flour-



What makes it such a contender?
It is not only gluten free, it is high in fiber and protein.  When I say high in protein, I mean it. It usually yields about 19% of non-gluten protein per serving and as a whole it . That is astonishing. Who says you have to eat meat to get your protein!
Another tid bit that makes this flour an excellent choice in either baking or for cooking in general is that it comes from the "meat" of the coconut, it is a naturally sweeter flour making it a more valuable flour choice for those wanting to cut back their sugar intake. It lessens that amount of added sugar needed in your recipes.
Note: The fact that it is naturally sweet may call for some experimentation on your part when adding it to recipes. Research has shown that a little goes a long way and when mixed with other flours, can really enhance the flavor on any dish.
Where Can You buy Coconut flour?
As with most gluten free flours, this flour is becoming more attainable at your local grocery store. However, what you might want to keep in mind is that the quality of the flour may lessen while the prices are higher. So I would encourage you to check the labels on the package to see what the quality and ingredients are like before you buy.

It is reasonably priced considering all the benefits that it offers. It isn't as expensive as Almond Flour but can still range higher than other gluten free flours.
Here are some links to purchase online that I recommend:
Incorporating Coconut flour into your cooking whether it be baking, breading, adding as a thickener to soups, smoothies and sauces; you will be quite happy with the results.
Not to mention that it facilitates better digestion, promotes vitamin and mineral absorption into the body, and helps promote a healthy heart and supports the immune system as well as cholesterol health.
What more can you ask for in a gluten free flour.
Go ahead! Try it out today! And don't forget to share your comments below...

To find out about Coconut Milk, Click Here!

---
Please feel free to share your thoughts kindly in the COMMENTS BOX below:
---
---
Take advantage of my Free Newsletter that allows you to keep current with new recipes, Food for thought, and encouragement to keep you on your path, especially written for my subscribers!
---
May I speak Gluten Freely? > Gluten Free Flour