Gluten Food List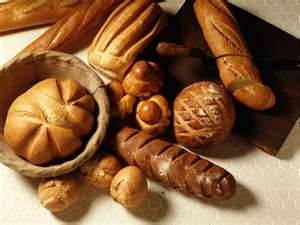 I thought I would take another spin on this subject because many gluten free sites out there automatically point out the gluten free foods (which is great, please don't get me wrong) but I know that with my thought process, I have to also understand which foods to avoid. So that is why I created a list of Gluten Food. I hope this helps out in the long run.
To get to: Gluten Free Food List
---
I am a strict advocate for reading all LABELS carefully! Although this list has been provided for you, it is a guideline only. Use good judgement for the betterment of your health!
Gluten food
containing grains:

Barley

Bulgar

Couscous

Durum Wheat

Farina

Faro Flour: made from grains on list

Kamut

Malt

Matzo

Oats and Oat Bran:unless tested and certified gluten free

Orzo

Panko

Rye

Semolina

Setan

Spelt

Triticale

Udon

Wheat

Wheat Bran

Wheat Germ

Some not so common grains:

Other items that may contain gluten:

Beer

Broth

Candy

Drink mixes

Juice Boxes

Dried Meals

Egg substitutes Flavourings

Flavoured instant coffee

Ginger beer

Certain types of Alcohol(I will

provide a list on GF Alcohol)

Gravy cubes and mixes




Hot Chocolate mixes

Hydrolyzed vegetable protein

Ice cream

Malt vinegar

Marinades

Mustard powder

Non-dairy substitutes

Dry roasted nuts

Packaged meats-lunch as well as processed meats

Root beer Sauces-already prepared and dried mixes

Packaged soups

Soy sauces-many contain wheat flour

Starches- certain ones

Thickeners
---
Gluten Containing ingredients in Meds

Starch

Stabilizer

Flavoring

Hydrolyzed plant protein

Emulsifier
---
---
Please feel free to share your thoughts kindly in the COMMENTS BOX below:
---
---
Take advantage of my Free Newsletter that allows you to keep current with new recipes, Food for thought, and encouragement to keep you on your path, especially written for my subscribers!
---
May I speak Gluten Freely? >  List of Gluten Free Foods