Eating gluten free at Social Events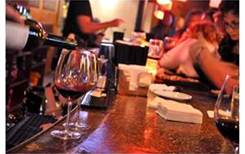 Eating gluten free at social events can be quite the challenge to say the least, whether it is for business or pleasure,  especially when you are just starting out.
Because Really…….
Who doesn't love a great social event?

Who doesn't enjoy the ambiance of a party?
It is a rare breed who says they would rather stay home.
How about gluten free professionals?

How can we make our life easier all the while staying gluten free at business/social events?
This is a valid series of questions because it is a real need; a real demand.
Well, I have news for all my gluten free professional colleagues. Social events do not need to be a hassle. You can survive them and preserve the gluten free essence of the occasion.
Eating gluten free at social events

How?

3 Simple steps!
It is as simple as making sure you are mentally prepared to keep your gluten free integrity.
Easier said than done?
Yes…So here are some tips that may help you to guard your gf gut:
1) The easiest way to handle your social affair is to make sure you eat your gluten free meal before you go to your event and then, once there, graciously decline anything from the food selection. But…how fun is that?
2) More realistic is to take a tour of the food offerings at your party as soon as you arrive. Go as far as asking the host if they have gluten free offerings. You don't know until you ask. Remember you are your own advocate. This is never to be underestimated. If you want to go a step further, call ahead to find out. Or even better, if you know your host personally, you can either offer to bring a gluten free dish or make sure they provide something that is sans gluten.
3) Look for platters that have real food on them. What I mean by that is: Sliced meats (with no additives), cheeses, vegetables (make sure the dips don't have gluten), fruits. Whole Foods. Every event has some kind of whole food platter (and if not then ummmm you should reconsider going.-joking! Well not really.)
Oh, Don't forget to make sure that your drinks are gluten free. Many options include gluten free beer, wine, spirits. Make sure to check that when mixing liquor, that the mixer doesn't contain gluten. Click here for my article on Gluten Free Alcohol.

Following these 3 simple steps should help you get a head start on your mingling affairs. Of course there are other articles out there to help you with step by step directions and guidelines. There will always be something more definitive and pointed but, then again, the average person has a hard time following too many rules hence this short but sweet approach.
Keeping it simple will help you, my valued visitor and reader, to keep the gluten foods at bay and allow you to Party in a Viva Gluten Free way!
---
Please feel free to share your thoughts kindly in the COMMENTS BOX below:
---
---
Take advantage of my Free Newsletter that allows you to keep current with new recipes, Food for thought, and encouragement to keep you on your path, especially written for my subscribers!
---
May I speak Gluten Freely? > Top of Gluten Free Eating at Social Events