Gluten Free Labeling?


Now that is Sweet!



Exciting News Below!!! Look Out for Update!

Gluten Free Labeling is an exciting new mandate in the US and Canada.

As of August of this year (2012), The Canadian government has put this law into effect.
What does that mean for us, the public? It means that now manufacturers and food makers must label their products properly according to any gluten in the product.  Gluten, in any way, needs to be put in the "ingredients list" of all food labels so that we, the consumer, can clearly identify what we are purchasing.
| | |
| --- | --- |
| | As a whole, the Canadian government considers oats, although not in themselves a product containing gluten, in the same category as wheat, barley, and other gluten containing ingredients. The reason for this is cross contamination of the manufacturing methods used to prepare this grain for market. So really, it is "better safe than sorry" method being used. |
This is a breakthrough in our gluten free way of living. Who of us has not felt bullied, unappreciated or disrespected for having an allergy to gluten?
Personally, In the past, I have felt very isolated and overwhelmed in my shopping experience which has led to downright frustration. Hearing about this law being passed is a Victory to the gluten free world because it means that we are now able to shop with that much more ease and comfort. We are now able to effectively teach our gluten free children how to read a label to their benefit. This also means that we have been taken a little more seriously. To be recognized by the Canadian government as well as its health system as a real issue, brings relief.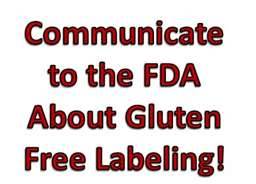 As of yet, the United States, the FDA to be exact, has NOT come up with a law enforcing proper gluten free labeling on food products. But they are working on it. As of now, they recognize that a standard of less than 20 ppm (gluten) is considered gluten free. My Strong encouragement to my US visitors and neighbors is this: Make sure you continue to read your labels carefully. You know the level of your intolerance/allergy, so you have to be your own best advocate until the government finally kicks in to help further. This is expected to happen by the end of 2012!
Update!!!
Great News for the United States:
As of Friday, August 2nd 2013, the FDA has finally issued a final rule on "Gluten Free" Labeling!!!
How exciting that we can now shop with more ease knowing that our products will be better screened before going on the shelves!!! However, because Gluten free labeling is considered a "Voluntary" labeling, It will still be important to check your labels. The FDA is still new to all this. So be prepared by doing your own homework.

Hip Hip Hooray!!!
For more info on this subject, click here!!
Also a great reference website is:
---
Please feel free to share your thoughts kindly in the COMMENTS BOX below:
---
---
Take advantage of my Free Newsletter that allows you to keep current with new recipes, Food for thought, and encouragement to keep you on your path, especially written for my subscribers!
---
May I speak Gluten Freely? > Top of Gluten Free Labeling