Gluten Free Restaurants in Reviews

---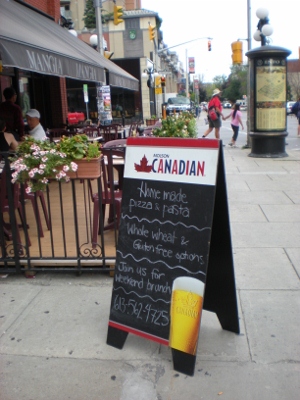 This picture is taken outside of Mangia Restaurant at the Byward Market in Ottawa,Ontario.
Fabulous!

---
Finding a great place to eat that is actually recommended is such a saving grace! It allows you to plan on having a wonderful evening without the bother of worrying "Is this place any good?"
Personally, I love finding new places that ease my gluten free palette and help me feel like I am living in the lap of luxury, even with a tight wallet.
This page is a great tool to share your personal favorite place to find grub, anywhere from Posh and Elegant to Greasy spoon, dive joints!
I will periodically share my favorite gluten free establishments that I find around town here in Atlanta and I encourage you to do the same!
my favorite gf restaurants in review
Our family LOVES to eat out! Eating gluten free does NOT stop us from enjoying these occasions. Over the years, I have personally learned how to ask for what I want and how to make sure that my meal is prepared properly. Learning these skills did not come easily but took time, patience and persistence. Now my son, Ethan, is learning to do the same thing when we eat out and I am so proud of him for doing so.
Below you will find restaurants that we have been too that we frequent as well as those we have gone to once and may not go to again. These are only our opinions so please don't base your decision on trying these places (if you live in the Atlanta area) on us! The experience for you may be quite different!
Let's get started, shall we!
---
Folk Art 
| | |
| --- | --- |
| Folk Art is a quaint restaurant found in the heart of the city, Inman Park, and is a newly established restaurant! What makes this place so great is the atmosphere. Once you walk in you will understand! The eclectic feel is generated from the old 80's favorite music in the background to the truly artsy wait staff! We have yet to meet a waiter who is cool and friendly.  | Folk arts mission statement is: Artful Eats for Simple Folk. |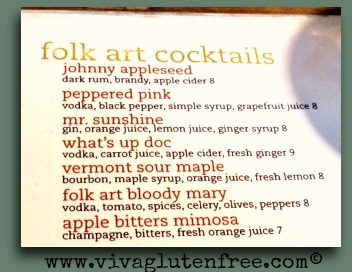 The general manager, Randy Parks, goes out of his way to make sure you are happy with your choices and has ensured that our gluten free community will be satisfied with the local gluten free fare that they provide. Being a local business, they work hard to support other local businesses which bring character and charm to this wonderful place to eat. As a family, we have grown to love this place and intend to support it for many years to come! We give it Five Stars!
For more information on Folk Art and where it's located, click here!
find gluten free restaurants in your area
Are you looking for some great gluten free restaurants in your area?
Make sure to click here. The link will take you to a great gluten free restaurant directory! Enjoy!!
---
share your favorite gf restaurant
Feel free to share your hidden treasures, no matter where they are in the world. You never know who will be joining you for dinner one day!
Happy Reviewing!
---
Have A Great GF Restaurant you would like to share?
Do you have a great GF restaurant you would like us to know about? Share it!
It doesn't matter where in the world it is, we can all use a great review of your fabulous GF meal!
What Other Visitors Have Said
Click below to see contributions from other visitors to this page...

Yeah Burger in Virginia Highlands Rocks! Not rated yet
We have a gluten intolerance that make it difficult for our family to find great places to eat. I had heard of Yeah Burger in Virginia Highlands in Altanta, …
---
Please feel free to share your thoughts kindly in the COMMENTS BOX below:
---
---
Take advantage of my Free Newsletter that allows you to keep current with new recipes, Food for thought, and encouragement to keep you on your path, especially written for my subscribers!
---
May I speak Gluten Freely? > Gluten Free Eating Out
Top of Gluten Free Restaurants in Review