Teff- What the Heck is it?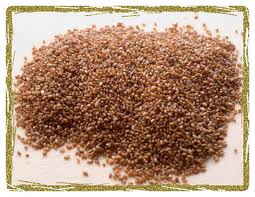 Ok, so I came up with this revelation to talk about teff flour because it has been a hot topic in my circle of friends for a while now. It created in me the desire to investigate what it is and why is it such a nice addition to the gluten free diet. Boy, am I glad I did.
What is interesting about it?

The most interesting thing about this cool grain is where it comes from. Ethiopia is the origin of this increasingly popular grain and it actually starts looking like a grass. It is a small seed packed with a high level of nutritional punch.

It is actually the staple flour in the country being used to produce a flatbread named Injera. Interestingly enough, this type of flour for cooking has been around for a long time, thousands of years in fact, in other countries while it is just now being discovered here in the Western Lands. The tastes instantly becomes a real winner among many because it favors a mild, nutty, sourdough like flavor all the while balanced with a slightly molasses sweetness. This is what make this exotic flour so intriguing to the palette.
---
Purchase Online Here
---
Buy in Bulk
Is it good for you?
In one word, YES.

You will find a high source of iron, calcium, phosphorus, and copper (among other things) with a superior amino acid constitution. And the lysine levels are higher than wheat and barley. It is easy to see that in all its forms it is an excellent source of protein, making it a popular choice in many vegetarian dishes. However, what a great way to supplement our gluten free diets!
Is it easy to cook with?

Because Teff raves to be similar to Quinoa, those who are experienced with cooking quinoa should find it no problem cooking it in its grain form.

For those not experienced with cooking either, here is what you do: Bring to boil 2 cups of purified water, add ½ cup of teff, and ¼ tps. salt in a saucepan. Reduce heat and simmer covered for 15-20 minutes until water is absorbed. Remove from heat and let stand for 5 minutes.
How easy is that!
For teff flour, it is easy to use in place of other flours (in part; about ¼ part of your favorite all-purpose gluten free flour) in all your favorite recipes. It is also a great thickener for soups, stews, gravies and really, anything that calls for thickening.
Really, you can see how this grain and its flour adds variety and intrigue to your already passionate gluten free life. It is great to incorporate into your gluten free diet plan because of it health benefits. So, go ahead. Give it a try. Let your Journey begin.
---
Please feel free to share your thoughts kindly in the COMMENTS BOX below:
---
---
Take advantage of my Free Newsletter that allows you to keep current with new recipes, Food for thought, and encouragement to keep you on your path, especially written for my subscribers!
---
May I speak Gluten Freely? > Gluten Free Flour