Quinoa Hot Cereal

Apple Strudel Breakfast Cereal


This original quinoa hot cereal recipe was adapted from my favorite Quinoa Cookbook "Quinoa 365 Cookbook.
I highly recommend it!
To buy it online, just click on the picture below
This quinoa hot cereal, Apple strudel breakfast cereal, is so delicious and so easy to make that your kids will want to volunteer for the job of chef.
My son, Ethan certainly did. And he did a wonderful job I might add. Proud of him! It hasn't always been an easy feat for Ethan to learn to enjoy his gluten free way of life but getting him involved in the cooking process has helped change his outlook tremendously. It has allowed him to experiment and feel a special sense of accomplishment in taking ownership of his new way of life. He will tell his story under the "Gluten Free Kid's Corner". Make sure to look for it and support him. But in the time being you will be happy to note that this Apple Strudel Breakfast Cereal is FABULOUS!!!!

Will become a quick favorite! Perfect for those cool fall mornings!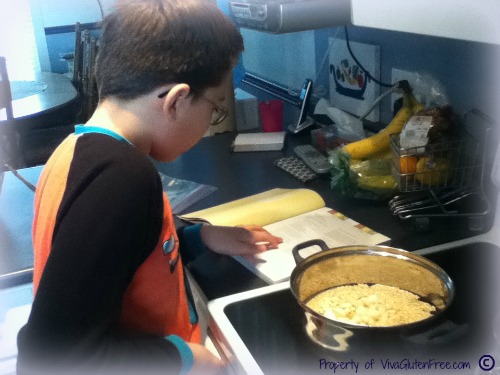 1/4 cup (60 ml) slivered almonds
1 cup (250 ml) quinoa
---
To purchase my choice of quinoa online, click below:

truRoots Organic Quinoa 100% Whole Grain Premium Quality
---
2 1/2 cups (625 ml) water

1/2 cup (125 ml) dried (or reg) apple slices
1/4 cup (60 ml) raisins

1 tsp (5 ml) ground cinnamon
1 tsp (5 ml) pure vanilla extract
1 Tbsp (15 ml) brown sugar (optional)
1 cup (250 ml) vanilla yogurt
Place the almonds in a medium saucepan over medium-high heat, Stir frequently until the almonds are toasted and fragrant, about 3 or 4 minutes. Set the almonds aside in a small bowl.
| | |
| --- | --- |
| Combine the quinoa, water, apple, raisins, and cinnamon in the same saucepan. | Bring to a boil, cover, and reduce to a simmer for 17 minutes. |
| | |
| --- | --- |
| This is what it turns out to look like. | Stir in the vanilla and brown sugar. |
To serve, divide between bowls, top with vanilla yogurt and sprinkle with toasted almonds (optional).
You get one happy kid in the end! This one is sold separately.
Bon Appetit!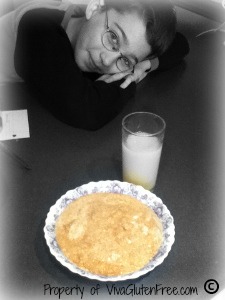 ---
Please feel free to share your thoughts kindly in the COMMENTS BOX below:
---
---
Take advantage of my Free Newsletter that allows you to keep current with new recipes, Food for thought, and encouragement to keep you on your path, especially written for my subscribers!
---
May I speak Gluten Freely? > Quinoa Recipes
Top of Apple Strudel Breakfast Cereal