Light and Creamy Mushroom Soup
(Recipe copied from Quinoa 365 bk)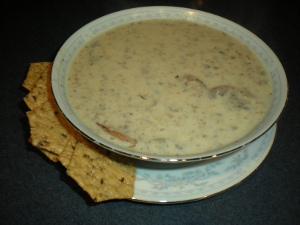 Can I just say that this is, in my skeptical opinion, one of the yummiest soups I have ever tried. And so easy to make, this soup made with Quinoa will be a real winner in your home, especially if you are a mushroom lover. Perfect for those fall/winter evenings that scream out for a decadently creamy soup!

1/2 cup (125 ml) quinoa

2 Tbsp (30 ml) butter

1 cup (250 ml) diced onion

8 cups (2 L) chopped white button (I used mini portabello) mushrooms

4 cups (1 L) chicken stock (make sure its gluten free) or vegetable stock

1 tsp minced fresh (or roasted) garlic


1 cup ( 250 ml) half and half cream

(10-12%)( more for garnish)

1/2 tsp ( 2 ml) salt

Pinch of black pepper

3 Tbsp (45 ml) half and half cream

(10-12%: optional for garnish)

3 Tbsp (45 ml) finely chopped chives (optional)

Place the quinoa in a large, dry saucepan over medium heat. Toast the quinoa until fragrant, about 5 minutes, stirring frequently. Place the quinoa in a bowl and set aside.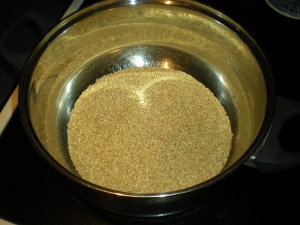 Melt the butter in the same large saucepan and sauté the onion and mushrooms until the onion is opaque and tender, about 7-8 minutes. Remove 1 1/2 cups (375 ml) of the mixture and set aside.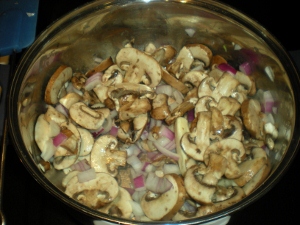 Add the toasted quinoa, stock and garlic to the saucepan and bring to boil. Cover, reduce to a simmer and cook until quinoa is tender, about 18 minutes.
Pureé the cooked mixture with a hand blender or cool slightly and pureé in 2 batches in a blender or food processor. Return the soup to the saucepan.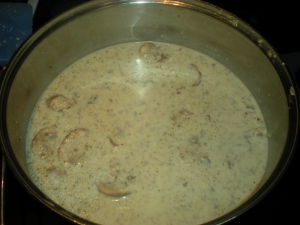 Season with salt and pepper. Add the reserved mushroom mixture and the 1 cup (250 ml) or cream. Reheat gently, being sure not to boil he soup. Garnish each serving with a drizzle of cream and some chives if you would like. Enjoy!
---
Please feel free to share your thoughts kindly in the COMMENTS BOX below:
---
---
Take advantage of my Free Newsletter that allows you to keep current with new recipes, Food for thought, and encouragement to keep you on your path, especially written for my subscribers!
---
May I speak Gluten Freely? > Quinoa Recipes