Gluten Free Tax Credit?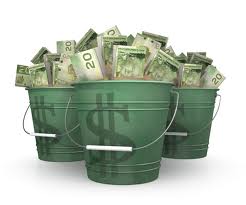 Yes, you read that right! Imagine being able to have a tax credit for having to transition to a gluten free diet and all the expense that comes with it? This is exactly what the Government of Canada has done! In pulling up research, YES, the US has a similar tax break as well. I will provide links below…
When I first came across this information, I was so excited to hear about this. To think, the money that goes into having to change over to gluten free living will now be acknowledged and helped to be put back into your pocket. That is seriously something to make you feel happy about. The govt. notices.
However, there are some steps that you have to take to be able to enjoy this little luxury. Because as we all know, the Government is not in the business of just handing out money for anything-
Ways to get your deduction:
 The govt. will want proof that you have Celiac. So, that means that you will have to get a Dr's note to help you let them foot the bill.
You will have to keep ALL your gluten free receipts. This means all your medical expenses pertaining to your diagnosis and follow up visits as well as all your grocery bills and anything else having to do with your gluten free lifestyle. Again, proof is in the pudding so make sure you are willing to save them. The govt. of Canada calls this "Incremental costs".
What is "Incremental Cost" you may ask?
Well according to Canada Revenue Agency:
"The incremental cost is the increased cost of purchasing a GF product as compared to the cost of a similar non-GF product. It is calculated by subtracting the cost of a non-GF product from the cost of a GF product."
You will have to have to calculate the costs between gluten free items as opposed to gluten-filled items.
The list above is a composite list which means that you will have to do all steps together to get your credit.
Gluten free tax credit



more information

For more information on this subject, feel free the websites sited below:

Canada Revenue Agency- To look specifically for how to handle the gluten free products deduction

CRA- For specifics on filling out your Tax Return with these deductions

Celiac.Org- For US Tax info pertaining to GF products:

With knowledge comes power. Understanding that you have an opportunity to save money and that the govt. is willing to help with this expense is a great relief. Make sure to do your research well and decide if you are willing to take advantage of this credit. If you do, Please feel free to leave your comments and let me know how it turns out for you.
---
Please feel free to share your thoughts kindly in the COMMENTS BOX below:
---
---
Take advantage of my Free Newsletter that allows you to keep current with new recipes, Food for thought, and encouragement to keep you on your path, especially written for my subscribers!
---
May I speak Gluten Freely? > Top of Gluten Free Tax