gluten free quiche
done right!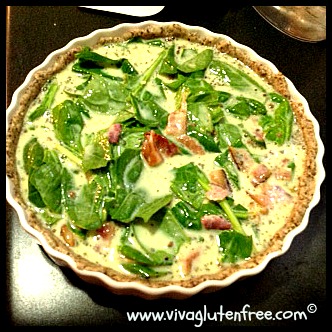 Quiche?
Gluten Free Quiche??
Growing up, I had never heard of quiche. Growing up in NYC, we stuck to what we knew. For any who have ever been to New York City, it there is a definite distinction of cultural pockets, for example, Little China, Little Italy, the Jewish neighborhoods, the Latin neighborhoods and so on and so forth. I grew up around Dominicans, Cubans and Puerto Ricans so many of my tastes have evolved from those incredible influences. We LOVE flavor and Savor!
Being from a Latin background, the concept of an egg pie was NOT even presented to us. It just wasn't done. Definitely not harmonious with our culture. We ate beans and rice. Steak. Chicken. And for breakfast, we ate bread. Or Oatmeal. And coffee. Anything with coffee. That is how we Latins roll.
It wasn't until we moved out of NYC into the suburbs of New York, when we were exposed to other non latin cultures. It was an eye opening experience to say the least. I remember feeling many times like I was a fish out of water. So many firsts. Mind blowing. 

my first quiche
I tried my first quiche at a school friends house and it startled me. I remember taking one look at it and saying to myself "What is THAT?" I had never seen anything like it before. How was I going to cover up the fact that I was afraid to eat this thing on my plate. My Latin parents had taught me to be polite, especially at the dinner table in someone else's house. I had to make a good first impression. How was I going to do it?
I decided that I was going to nonchalantly ask..."May I ask what this wonderful looking dish is?" My fabricated charm came to the fore... My 13 yr old friend said "You don't know what Quiche is???" in aghast. That is when I embarrassingly replied... "No". She said "Try it and let me know what you think!" So.... I did. And I loved it.
It would be years until I would have quiche again because there was no way it was being made in my house. But when I came to have my own house, I incorporated it into our dinner menu. It was a nice treat then and gluten free quiche is a nice treat now.
My son has grown up with it and knows no different.
My husband has learned to enjoy it because, well, that is just his personality. He is a simple, wonderful man.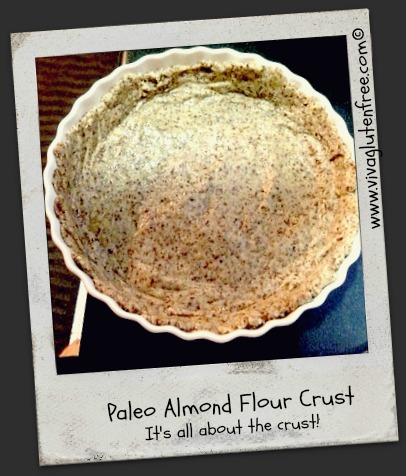 Over the years, I have tried many recipes -some good and some not so good. Finding the right crust has presented a problem just because my family (my son) is so picky. (Truthfully, I blame it on my son but it is actually me who is the picky one!)
Lately, I have been taking a stab at this whole paleo thing because,really can I consider myself a gluten free expert if I am not open to try new things. So, in perusing Pinterest, my secret, well not so secret, addiction, I came across this paleo recipe.
I have fallen in love with and just have to share!
The author of this recipe is Kim from Hungry Healthy Girl and I have to give her a 5 star kudos!
Gluten Free quiche


the recipe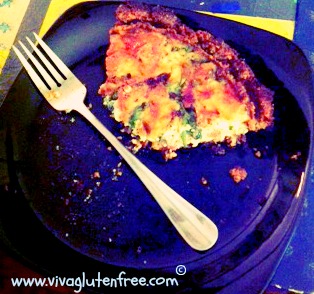 I did make some variations to suit our tastes. However, I have to say the crust is the most wonderful part! 
Bon Appetit as Julia would say!
---
Please feel free to share your thoughts kindly in the COMMENTS BOX below:
---
---
Take advantage of my Free Newsletter that allows you to keep current with new recipes, Food for thought, and encouragement to keep you on your path, especially written for my subscribers!
---
Gluten Free Recipes > Top of Gluten Free Quiche