Gluten Free oats made easy
Are Oats Gluten Free? 
The simple but effective answer is: Yes, only if they are certified gluten free. Oats in themselves are gluten free but, generally, they are manufactured in facilities that are NOT gluten free. Unless you see "Certified Gluten Free" on the label. 
Gluten free oats can be made a variety of different ways. There are so many recipes online and in books that can really bring diversity to your taste palette. That is a treat for many of us who eat the gluten free way.
A challenge for many on-the-goers is how to have a healthy breakfast that leaves them feeling full and ready to go.
These wonderful whole grains always make a great addition to your breakfast routine because of there nutritional benefits. They are not only great for lowering your cholesterol and keeping your heart healthy, they are great for keeping your figure in tip top shape. Now, That is a plus!
That was my dilemma, so like you, it motivated me to look online for a great easy, on-the-go recipe.
For those on-the-go days, this recipe comes in so handy...It is literally the easiest recipe you can find. Just make sure to have gluten free oats on hand and you are good to go!
Enjoy!
(I found this on Pinterest!)
IMPORTANT NOTE:
It is a very important process to soak your oats at least for a few hours, if not overnight, before consuming! 
This allows you to get the most nutrients from the oats themselves. Phytic Acid ( an organic acid containing phosphorus)  is present in all grains. This acid can, if left in an unprocessed state, can interfere with your body's absorption of vital nutrients such as magnesium, copper, zinc and calcium into the bones leading to bone loss and mineral deficiencies. Then your eating of this wonderful grain can be in vain.
Soak your Oats!
gluten free oats made super easy!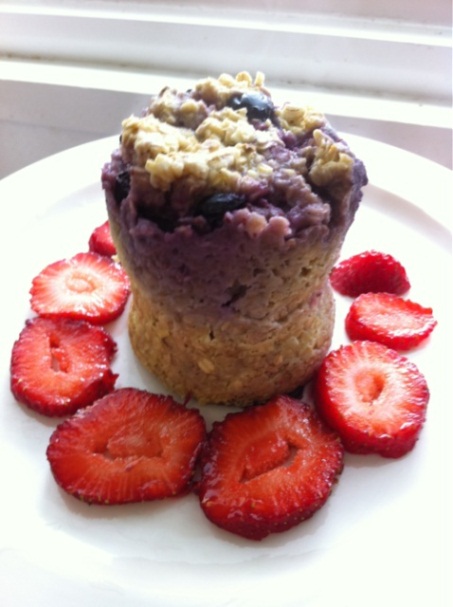 The Easiest Breakfast Ever!
1/4 cup of gluten free oats
1 egg
1 tsp brown sugar
handful of blueberries
splash of almond milk (or whichever milk you prefer)
dash of cinnamon
Mix it all together into a large coffee mug.
Cook in microwave for 2 minutes and there you have it! You have breakfast in a mug!

---
Please feel free to share your thoughts kindly in the COMMENTS BOX below:
---
---
Take advantage of my Free Newsletter that allows you to keep current with new recipes, Food for thought, and encouragement to keep you on your path, especially written for my subscribers!
---
May I speak Gluten Freely? > Gluten Free Recipes