Gluten Free Meatloaf-My Way!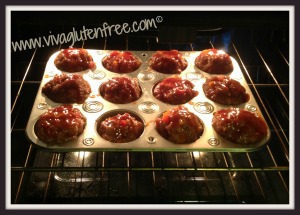 Gluten free meatloaf recipes are a treat to the traditional meatloaf. Really the only difference between the gluten filled meatloaf and a gluten free variety is the adding of breadcrumbs (if you like that sort of thing) to not adding them.

Before I tell you my recipe, I want to let you all know a little tid bit about myself.  Being of the latin background, Meatloaf was NEVER brought up in my house! Are you kidding me!! A loaf of meat sounded disgusting or if it was attempted, it had Spanish seasonings all over it and tasted more like a "Carne Guisada or Guisou (as my dominican family says it)" which is a Dominican delicacy-at least in my home…
You can imagine my surprise (although I really shouldn't have been surprised because I married a "white boy" as my familia would say) when my dear new husband so lovingly asked for me to make him a  "Meatloaf" one night…I guess he got tired of my rice and beans!
So there started my search for a meatloaf recipe which I quickly found in my Better Homes & Gardens cookbook, Thanks to a dear friend who must have had the forethought to know that our interracial union would eventually lead me to this INCREDIBLE cookbook!
Needless to say, the night I made my 1st meatloaf, I was extremely proud of myself and my husband loved it…so here in started the meatloaf tradition in my home. We have been happily married 17 yrs and I have made meatloaf for my dear, darling husband either biweekly or at least monthly since. (Our almost 12 yr old has had the best of both worlds, not knowing any different!) Much to the disdain (joking) of my Latin family who really would rather have Arroz Con Pollo with a side of maduros!
So that leads us to today where, for 4 yrs now, I have had to adapt my meatloaf recipe to become gluten free. That goes with A LOT of experimentation and complete duds in recipes.  Because of my Latin roots, I LOVE SPICE, so I have had to work at creating that in my gluten free meatloaf.
The recipe you see below has been very much adapted from the original recipe that I learned 17 yrs ago in my now battered, ripped and still very much loved Better Homes & Gardens cookbook. I hope you enjoy it as much as my family has!
Here it my rendition of a gluten free meatloaf! Oh, by the way, I really had to work on the measurements because as a Spanish, probably really bad habit, I don't measure. I just throw it all in and have faith that it will turn out supurb!!!  So please don't judge me if it is not to your flavor specs and feel free to experiment as well.
---
My Gluten Free Meatloaf Recipe

Materials you will need:

Large bowl

Clean Hands

Cutting board

Sharp knife
Ingredients:
1.5 lbs of Ground Beef (I like to use Lean ground beef)
1 Red Pepper
1 Orange Pepper
1/2 Purple Onion (it adds kick)
3-4 cloves Garlic (I like a lot of garlic)
2 large Eggs
About 1 ½ teas. Of Cuban Seasoning (I purchase Epicure-a Canadian Brand. Want to purchase, click here!)
About 1 ½ teas. Of BBQ seasoning (again Epicure)
About 1 teas. Sea Salt
About 1 teas. Ground Pepper
About ¼ cup Almond Milk (use discretion, you don't want to overdo it.
Now, I say "About" because I don't measure.
Please use your discretion as to how seasoned you like your food.
About 1 ½ teas. Adobo Seasoning

This seasoning makes all your dishes just that much better! It adds spanish flare and awakens your taste palette so that any dish you make with Adobo sprinkled on it tastes great EVERY TIME.
---
I highly recommend that you have this wonderful spice in your pantry. Buy online Now:

Goya Adobo All Purpose Seasoning, 8 Ounces
---
My Homemade BBQ Sauce (See Below)

Here is My Homemade BBQ Sauce recipe:
About 1 cup of Ketchup
About 1 cup of Black Strap Molasses or Maple Syrup
Splash of garlic powder (you can use Abobo seasoning)
Splash of onion powder (optional)
About 2 Tbsp Gluten Free Soy Sauce
About 3 tbsp Hot Sauce
OK, Take the Large bowl and put the ground beef in it. Set aside.
Cut up the red and orange pepper as well as the ½ onion and garlic. Place all cut up ingredients in bowl with beef. Then, add all the spices to your liking. At this time, add the egg and milk to make the mixture moist enough to work with. Use your hands to mix all the ingredients together. I know this may seem gross but it works wonders. I totally believe the hands help in adding that much more love to the recipe…call me crazy but I really do believe that…must be a latin thing.
Lastly, mix in most of homemade bbq sauce. Leave some to drizzle on the top of the meatloaf before it goes into oven.
What I did, as you can see from the picture, is used my cupcake pan to divide the meatloaf into little meatloaf patties. The reason behind this is twofold. It doesn't take as much time to cook and you can freeze the leftovers individually if you wanted too.
Allow to cook at 375 for about 25-30 minutes or until it is nicely browned on top. The BBQ sauce makes a wonderful glaze.
That's it! Finale! Done! Waaahlaahh! Your gluten free meatloaf is done!
Enjoy with your favorite sides. Personally I make with Rice and beans but then again, would you expect anything less!
---
Please feel free to share your thoughts kindly in the COMMENTS BOX below:
---
---
Take advantage of my Free Newsletter that allows you to keep current with new recipes, Food for thought, and encouragement to keep you on your path, especially written for my subscribers!
---
May I Speak Gluten Freely » Gluten Free Recipes