Gluten Free Beer is here to stay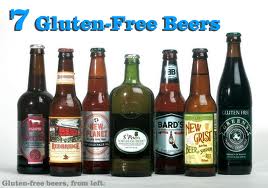 Gluten Free Beer has become all the rage!
Beer, in general, is an all-time favorite with many the world over. In face, it is a staple in many countries. When you think of Ireland, England, and Scotland, what comes to your mind?
 PUBS!
What about tailgate parties during football season, hockey games, and basketball games?
What do you usually purchase?
And how about poker night and camping?
Or grabbing a nice, cold brew-ski after mowing the lawn on a hot summer day?
Then there is the idea of cooking with it such as making Beer Bread or sausage..
Do you get the point?
Really beer is a real part of our lives! Yes, beer is universal…We speak the language of beer.
-Gluten free beer-
Whats being done about it?
Living gluten free doesn't have to rob us of our wonderful, favorite pastimes which include having a nice pint or bottle of beer once in a while. Thankfully, because of the tremendous increase in demand to care for our gluten free needs, beer manufacturers in general have gotten busy at work creating gluten free options in the beer category. And there are A LOT out there to choose from.
And soon enough, there will be many restaurants and pubs that will make them as widely available as regular beer on draft-Ahhhh gluten free on draft!!!That will be the day! I will personally rejoice over that one! Ones gotta love the taste of beer. My favorite is a Black Velvet- half Guinness and half Strongbow cider. Boy, do I look forward to the day that I can have a gluten free dark beer as fabulous as Guinness to enjoy in a pint. But until then I will gladly enjoy the wide array of other beers that are out there especially made for you (my gluten free friend) and me!
Looking for a great gluten free beer?
There are many varieties out there to choose from.
Here is a list of some that I enjoy:
Redbridge
New Grist
New Planet
Bards
Omission (I tried once...it was OK)
Greens Dry Hopped Lager
Estrella Daura
Harvester Brewing IPA
AND if you are into making your own homemade Beer, Check out my choice below to try! You can click and order right from here:
---
Brewer's Best Gluten Free Ale Beer Ingredient Kit

Here's a great Kindle Book on Brewing:
---
By the way, for those who don't particularly enjoy drinking beer, a great alternative is Cider made with Apples or Pears. Goes down smooth and has a sweet taste to it! One for the books!
For help in finding other great Gluten Free beers that will whet your appetite and satisfy your gluten free taste buds, a highly recommended resource to look to is: Gluten Free Beer! My gluten free friends Harold and Dona have outdone themselves in putting together a list that will tickle your beer fancy! Take a stroll around and pay it forward by telling your friends and family about us.
---
Please feel free to share your thoughts kindly in the COMMENTS BOX below:
---
---
Take advantage of my Free Newsletter that allows you to keep current with new recipes, Food for thought, and encouragement to keep you on your path, especially written for my subscribers!
---
May I speak Gluten Freely? > Gluten Free Alcohol