Butternut Squash Soup

-

The Creamy Kind
(and Johnny Cakes)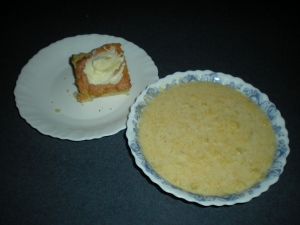 Butternut squash soup!
I had never had it until I came across this recipe and decided that I had a hankering for it. Isn't that how any great recipe comes into your life? Or maybe it's just me!

This recipe was tweaked from the Original Better Homes and Gardens Recipe and my family really liked it. And I cooked it in the slow cooker to add extra yumminess let's face it, it made my job easier…
Fabulous for the those cool fall evenings when you need a little sweet comfort and food snuggle.
Not to mention the health benefits involved with butternut squash such as being low in fat, high in fiber and heart healthy. That makes eating this soup more often than not a great, healthy choice!
Goes wonderfully with gluten free Johnny Cakes, otherwise known as Cornbread!
OK so on to the recipe…
Cream of Squash soup
1 Medium/Large Butternut Squash-peeled and cut up into square
4 cups Chicken Broth
4 Tbsp Butter
2 Tbsp Quinoa Flour
¼ to ½ cup Brown Sugar
1 cup ½ and ½ cream
Salt and Pepper to taste
1sp Cinnamon
1 tsp Ginger
¼ tsp nutmeg
In a slow cooker, combine squash and chicken stock. Cook on High for 4 hours.
When the squash is soft; start to smash it into a creamy consistency or you can use a hand blender to create same effect. At that time, add butter, brown sugar, quinoa flour and spices. Blend well. Then add the cream until well blended. Cook for another 30 minutes until this gluten free soup is thick and creamy. Enjoy!
By the way, if you have a wonderful recipe that you would like to share-especially of the soup variety, feel free to go to my contribution page-HERE- and share, share, and share!

For Johnny Cake(Gluten Free Cornbread) Recipe, Click Here.

---
Please feel free to share your thoughts kindly in the COMMENTS BOX below:
---
---
Take advantage of my Free Newsletter that allows you to keep current with new recipes, Food for thought, and encouragement to keep you on your path, especially written for my subscribers!
---
May I speak Gluten Freely? > Quinoa Recipes