Avocado Banana Smoothie


(with berries)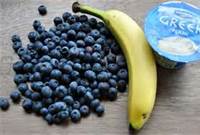 Avocado Banana smoothies are the best!!!

Can I just tell you how much I look forward to making this smoothie most mornings. It's great for the gluten free diet.
Over the years, our family has thoroughly enjoyed making smoothies. We have tried many and by far this smoothie has become a staple in our household. It is naturally gluten free and fabulously decedent!

And may I add that it is so easy to make that my son will willingly whip it up in no time flat!
Here is this easy recipe which I have kind of concocted. Each time it is a little different but the result is always the same: Fantabulous!!!
Avocado banana smoothie
In a Blender, Combine:

1 medium/large Banana
1 small/medium Avocado
loosely measured 1/2 cup wild blueberries
loosely measured 1/2-3/4 cup plain organic yogurt
(you can also use Plain Greek Yogurt for a richer flavor-yumm)
loosely measured 2 cup Almond Milk
(you can use any milk choice you would like)
Sometimes I add 1 cup Almond Milk, 1 cup Natural Fruit juice
loosely measured 2 Tbsp chia seed or flax seed
Splash of Honey-Optional
(My boys like it sweet so I appease)
Blend and Enjoy!
---
Please feel free to share your thoughts kindly in the COMMENTS BOX below:
---
---
Take advantage of my Free Newsletter that allows you to keep current with new recipes, Food for thought, and encouragement to keep you on your path, especially written for my subscribers!
---
May I speak Gluten Freely? > Gluten Free Recipes