Dermatitis Herpetiformis
What is Dermatitis Herpetiformis?
Dermatitis Herpetiformis, otherwise known as Duhring' disease was discovered by Dr. Louis Duhring in 1884. This auto-immune disease comes on fierce and is considered a chronic illness. As a matter of fact, wikipedia describes it as "being a chronic skin blistering condition characterized by blisters filled with watery fluid... "
For any who have it, they suffer quite a bit from discomfort and extreme chronic itchiness. The flare ups can so painful that they can leave sufferers begging for relief.
If you are new to the gluten free world, this condition may be new to you. You may have not released that the body can respond so severely to a gluten intolerance. 
It is a term that I only came in contact with more recently in my findings because I have a dear friend who was diagnosed with this. He was diagnosed as a youth, around 20, and has had to adapt to it since. Now in his 50's, he has found complete relief through a gluten free diet and constant monitoring...
For those of you who do not know what it is, let me first explain that it is a separate symptom that is usually connected with celiac.
What does it look like?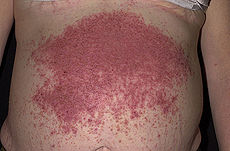 Looks quite painful, doesn't it?
It is a result of gluten intolerance and really the only way to control its flair ups is with a gluten free diet and a medicine commonly prescribed called Dapsone (if necessary).
Some of the symptoms include:
· Intense itching and burning
· Blistery rashes that break out all over (most commonly on back of neck, buttocks, knees, hairline, face, elbow)
· Scratch-like blisters that come and go.
It has its most common flair ups in men and very rarely does it surface in children under the age of 10. As a matter of fact, the most common age of surfacing is between the ages of 20 and 30 years of age.
Because it is linked with celiac, by the time that you see the rashes there would have been some damage to the intestinal walls. So, if you suspect having this rash, it is important to speak with your dermatologist and get a skin biopsy, a simple in-office procedure that requires taking a small sample of skin, to confirm your suspicions.
Diagnosis and treatment
Getting a diagnosis for this disease is extremely important but is is often very difficult to get. The reason being is that it is often compared to conditions such as contact dermatitis, scabies, or even certain types of eczema.
Be diligent about requesting a simple blood test that exposes IgA (Immuniglobun A) antibodies. IgA antibodies are found in high concentrations in the mucous membrane of the gastrointestinal tracts. Getting tested for these antibodies will be able to more clearly indicate if you have dermatitis herpetiformis or not.
Then you can get the right treatment available to you. Sufferers benefit fully from a 100% gluten free diet and medications. A gluten free diet will have to become a lifelong commitment to achieve full relief.
If you suspect that you have this condition, now is the time to respond by getting diagnosed and treated. Contact your doctor today!
Better Health to you!
---
Please feel free to share your thoughts kindly in the COMMENTS BOX below:
---
---
Take advantage of my Free Newsletter that allows you to keep current with new recipes, Food for thought, and encouragement to keep you on your path, especially written for my subscribers!
---
May I speak Gluten Freely? > What is Gluten Free?
Top of Dermatitis Herpetiformis